HANDMADE TOP QUALITY
Orthopaedic pillows that can noticeably relieve your neck
Ergonomic. Comfortable. Breathable. Hygienic. We have optimised the pillow: experience a dreamy lying sensation on an orthopaedic functional pillow based on our SEVEN SUNDAYS E3 sleep technology for a healthy sleep.
High-tech functional pillow:
pillow for neck pain
Whether you are a side or a back sleeper, SEVEN SUNDAYS orthopaedic pillows support you in every sleeping position – for a relaxed neck.
According to estimates, up to 80% of Germans suffer from neck tension or neck pain – for example, due to long periods of sitting at a desk, heavy physical work, a lack of exercise or poor posture. Frequently staring at your Smartphone also puts strain on your neck, as up to 10 times the force is exerted on your cervical spine. That's why functional pillows like neck support pillows are becoming more and more popular.
From our point of view, the best pillows must all offer one benefit: to be good to your health while you sleep.
The body should regenerate during sleep, but with the wrong pillow the opposite is often the case: you wake up in the morning with neck pain.
That's why our ergonomically shaped pillows have special support properties and can help ensure that your head and spine are optimally supported while you sleep, so that your neck muscles don't tense up. They are breathable, extremely hygienic, fantastically comfortable and, thanks to their high quality, extraordinarily durable. In short: high-tech.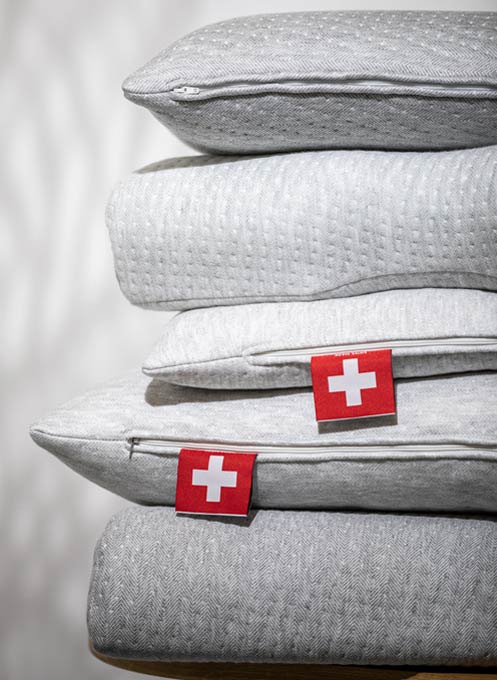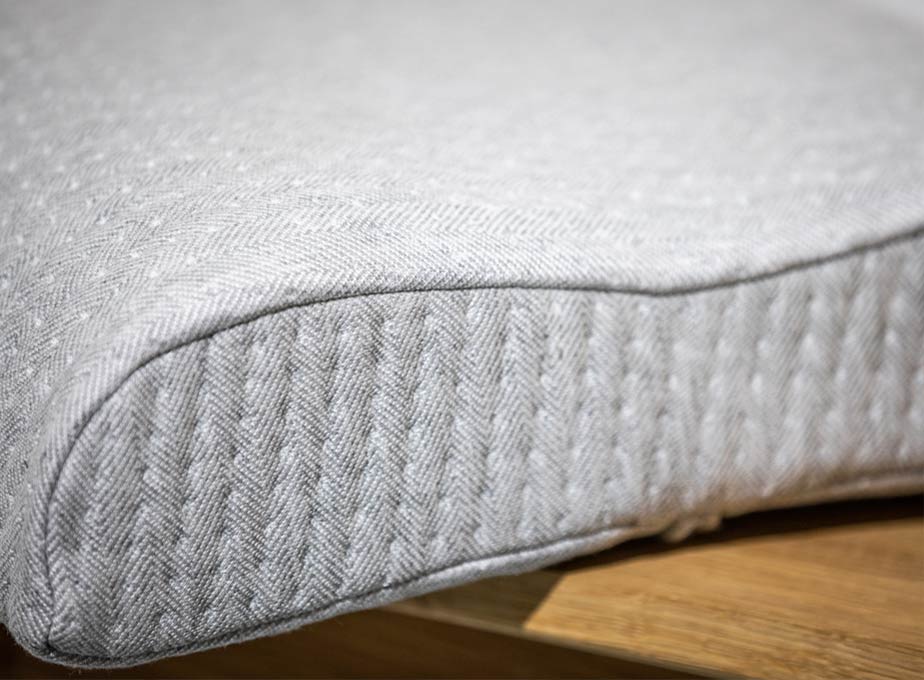 Premium pillows
with an intelligent orthopaedic design
From a health point of view, classic pillows with a simple filling of feathers or down can only be recommended to a limited extent.
The ergonomically ideal positioning of our head and cervical spine depends on our preferred sleeping position. The anatomically correct position of the head, cervical spine and neck is different for side sleepers from stomach or back sleepers. You will never be able to achieve this with a conventional bed pillow – no matter how you lie and sleep. The trend is therefore more and more towards technologically advanced special pillows that meet the individual requirements of the different types of sleepers.
As pioneers in the field of functional sleep products, SEVEN SUNDAYS develop their pillows according to the latest findings.
The intelligent design of SEVEN SUNDAYS orthopaedic pillows enables you to effectively position your spine naturally for maximum relaxation with the highest level of lying comfort. Your sleeping position determines the kind of support that is required and thus also the optimum pillow shape for targeted pressure relief. Your body shape is also decisive. A person with a slight build needs a lower pillow than a strong person with broad shoulders. That is why SEVEN SUNDAYS neck support pillows are adjustable so that they really work for you.
Pillows from SEVEN SUNDAYS:
Top quality you feel night after night
There are noticeable differences in quality when it comes to choosing a pillow.
As a specialist sleep manufacturer with a high level of technological competence thanks to decades of expertise, quality for us means perfection down to the last detail: our orthopaedic pillows combine ergonomic functionality for effective pressure relief and individual neck support to give you a heavenly lying sensation – and all this with the highest quality of materials and workmanship. We make sure you have a relaxed and restful sleep, so you can start the day with more energy.
Our entire range of pillows is certified according to STANDARD 100 by OEKO-TEX – the label for effective protection against harmful substances in textiles. This globally recognised label effectively guarantees the highest level of product safety with regard to chemical substances that are harmful to health. All components of pillows with OEKO-TEX certification have been tested. Our pillows have passed the harmful substance test for products with direct and/or intensive skin contact and are therefore particularly allergy-friendly and suitable for babies.
Pillows made from exclusive materials
Exclusive materials mean a high-quality pillow. For our foam pillows, we use only organic Visco foam with a high density of 55 kg/m3, which is refined with Aloe vera oil during production. The down pillow contains odourless goose down from Germany, which is guaranteed not to come from live plucking. The shredded latex is made of pure natural rubber with a high density of 85 kg/m3. For the outer covers, we use a high-quality functional blended fabric.
Swiss handcrafted pillows
Our pillows are handmade in Switzerland with materials from the EU. Our factory has more than 40 years of experience and has always remained on the cutting edge. Our in-house Research & Development Department designs pillows in close cooperation with sleep experts, orthopaedists and physiotherapists. We optimise pillow shapes and materials for healthy sleep because we know that if you sleep well, you'll be more relaxed, more productive and happier the next morning.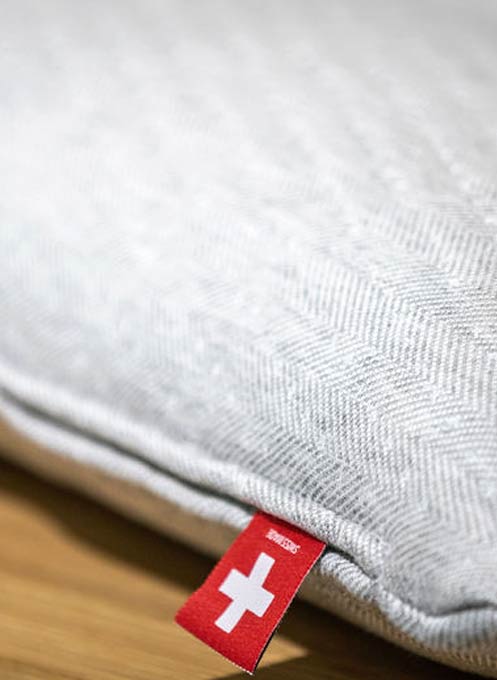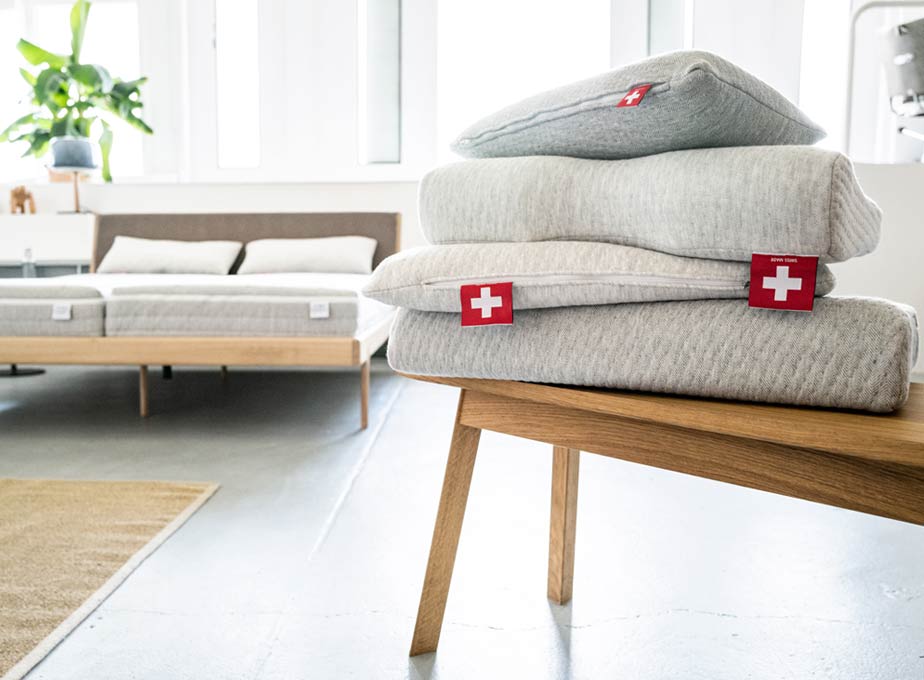 Pillow experiences:
This is how our customers rate us
Switching from a conventional feather pillow to a zoned pillow with several chambers or even a viscoelastic pillow often takes some getting used to, as the lying sensation is different.
However, once you get used to it, you soon realise that the benefits outweigh any disadvantages. This is confirmed by customers who have tested our pillows and no longer want to do without them.
After a bad blockage of my cervical spine (including a visit to the chiropractor), I did intensive research to find a new pillow.
I had always used an 80x80 down pillow before. In the end, I decided on the Seven Sundays back sleeper pillow. The first morning, I was afraid I had made the wrong decision because my neck was still tense. BUT: The absolute highlight is the height adjustability!!! The second night I took out the bottom layer and tried reducing the height of the pillow (I'm quite petite) and I've been waking up completely relaxed ever since! For me, the height was the decisive factor. I am more than satisfied!
This must be the sixth pillow I have tried.
I am very satisfied with the Seven Sundays down pillow. I am regularly confronted with a stiff neck. In recent years I have tried ergonomic pillows from time to time, but I just couldn't get used to them. I need feathers under my head! The feather pillow with the head area is great – it works! I used to wake up in the morning lying on the pillowcase - now my neck is always well supported and I wake up in the morning with a pain-free neck. I recommend it without any hesitation!
I have been using the pillow for 3 weeks now and I'm pleased with it.
I had measured my old pillow and ordered the exact same height (12 cm). So the lying comfort was also very good as usual, with no neck pain or tension. The pillow had no unpleasant chemical odour right after unpacking – on the contrary, the Aloe vera smells great. I have the feeling that it might wear off a little. Or maybe I'm used to it. In any case, it was possible to sleep on it right away. The foam is pleasantly soft and supportive. The cover is very high-quality - I don't even have an extra cover on it. Delivery was quick and the packaging was also fine. Thank you! And I'll be back for more.
I bought the pillow for side sleepers because I have unfortunately had problems with my neck and shoulders for a long time.
At first, I was unsure whether I would miss my beloved feather pillow. But because I had trouble sleeping through the night and often got up in the morning feeling dizzy, I had to do something. After receiving tips from my physiotherapist friend in Kempten, I decided on the ergonomic side sleeper. A bit unusual at first because of the unusual shape. But – it works! I am thrilled and hope to keep my aches and pains under control or maybe even reduce them! For this reason, I would definitely recommend it! And thank you for the product.
I was interested in the dream pillow because my wife had already tried out many pillows and none of them had helped her neck pain.
I made an appointment with a sleep expert from Seven Sundays who showed me and my wife the pillow and adjusted it for us. We have both been sleeping on back sleeper pillows for three months now. We no longer wake up at night with neck pain and get up refreshed in the morning. In addition, my wife is no longer woken up by my snoring when I lie on my back. Without a doubt, it's 5+ stars from us ...The mattress will definitely follow soon!!!! Thank you very much for this great pillow.
I prefer to sleep on my stomach, but I toss and turn a lot at night and generally sleep restlessly.
I have tried many pillows, but most of them were always too high, or I slipped down at night and my neck bent. I'm petite (161 cm) and at last I don't have neck pain anymore when I sleep on my stomach. Even when I turn onto my back, I always lie comfortably. I took the bottom part out of the pillow. At first it annoyed me to have to buy new bed linen – but now I use the pillow without a special cover. It's pleasantly soft and looks really stylish. Big plus: it's easy to clean (washing machine, dryer – no problem). I am happy with the pillow. A real eye-catcher.
I hardly ever leave product reviews, but for this product I'll make an exception!
With my old pillow I regularly woke up tense in the morning. Often, my whole shoulder and back area was totally stiff. Since I started using the Seven Sundays pillow, these ailments have disappeared. You automatically put yourself in the right position and lie comfortably – even on your back! Fantastic!
SEVEN SUNDAYS pillow & mattress:
Your dream team
Healthy sleep is all about the system: a pillow that is adapted to your sleeping habits and your body is an important first step towards regeneration during sleep.
However, no matter how well thought-out it is ergonomically – if your mattress is too soft, for example, the support function will not be effective because your upper body sinks too deeply into it and your head inevitably bends. As an optimally coordinated sleep system, our pillows and mattresses are your dream team for perfect sleep. Find out more about the benefits of our mattresses designed to last a lifetime.
Discover mattresses