Travel Pillow
---
Height-adjustable premium travel pillow made of memory foam
Delivery time 15 working days
Shipping CHF 6.90 (free from CHF 89.00). Free returns.
Our satisfaction guarantee:
✔ 30 nights' trial sleep

✔ Free returns if you're not satisfied

✔ 2 years premium product guarantee
You have questions?
Let our product experts call you back or schedule a free sleep consultation now.

Sleep tech – Hand made
Neck health ergonomics
Convenient pillow size for ergonomically relaxed positioning of head and neck when travelling.
Comfortable memory effect
Premium high-density memory foam ensures perfect adaptation to the contours of the body.
Ideal sleeping climate
Not too warm, not too cold, not too damp – thanks to breathable top materials and special puncturing.
Maximum hygiene
The cover is washable at 60°, suitable for tumble drying and perfectly resistant to regular washing.
Why customers love the Travel pillow
Your orthopaedic neck travel pillow -
for more relaxation on your travels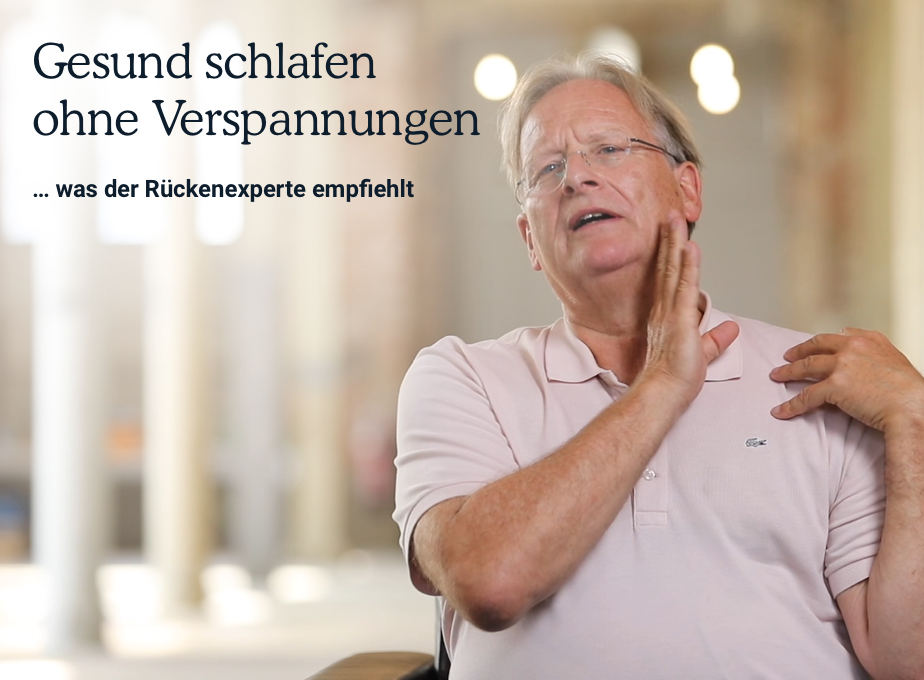 Whether on the plane, in the car, on the bus or in the train, enjoy any journey more with a comfortable travel pillow for a relaxed neck. An important feature of a good travel pillow is a convenient size. A travel pillow should be space-saving so you can fit it in a backpack or suitcase. However, the shape and material of a travel pillow are even more important. Inflatable travel pillows or conventional crescent-shaped pillows can quickly lead to tension in the neck if the head is bent, overstretched or not properly supported. Travel pillows made of memory foam, which adapt exactly to the natural shape of the head and neck, are better suited. Our high-quality functional travel pillow with E3 sleep technology offers just that. And it's not just when you're on your travels that the pillow provides more relaxation, recuperation and energisation during sleep - it's also perfect for a power nap in the office or as a children's pillow.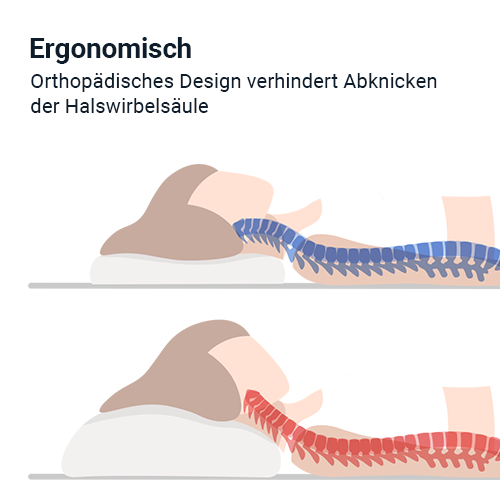 The ideal shape for all sleeping positions
A travel pillow should work in all possible sitting and lying positions - whether on the plane, on the passenger seat or the back seat, in the prone, supine or side position. Accordingly, common shapes such as U-shaped neck pillows or wave-shaped travel pillows to adapt to the natural curvature of the neck in the supine position are less useful from a functional point of view, as they are not suitable for all sleeping positions. To best meet all your needs when travelling, we have therefore chosen an optimised rectangular shape and a functional travel size.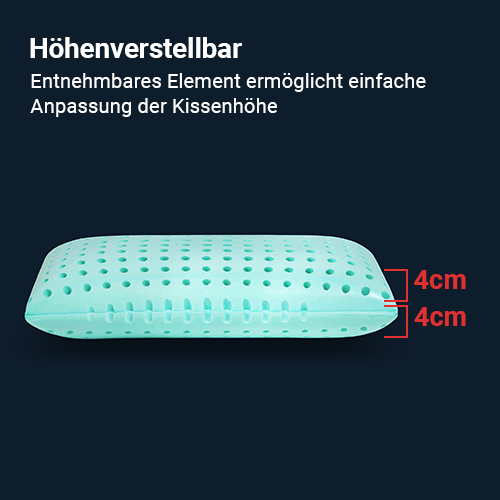 Adjustable pillow height
How and where you want to rest your head when travelling corresponds to different support needs. It is therefore important that the height of a travel pillow can also be adjusted. For maximum flexibility when travelling, we have decided to split the memory foam core exactly in the middle, resulting in two pillow heights of 4 cm and 8 cm. The flat version, for example, is very comfortable when sleeping in a sitting position or for stomach sleepers. Back and side sleepers will simply use both foam parts as an ergonomic pillow. At half height, the pillow is perfect as an ergonomic children's head pillow.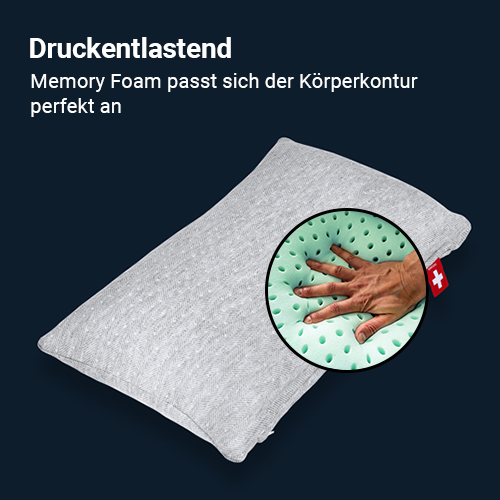 The memory foam neck pillow for optimum pressure relief
Luxury Visco foam makes our travel pillow particularly functional. Viscoelastic foam allows the pillow to adapt to any condition – without restricting the support function or lying comfort. The high-quality material is particularly durable and retains its shape for a long time, even under strenuous use. Body heat makes it elastic, so it always adapts to the contours of the body. This enables optimal pressure relief at specific points. The pillow only gives way where it is stressed and thus ensures noticeable relaxation with orthopaedically effective support for the head and neck based on an enhanced memory effect.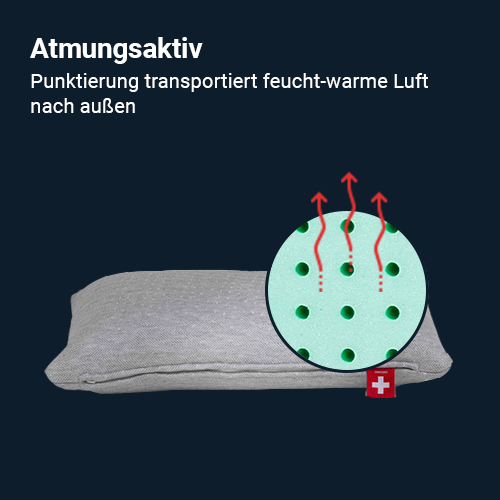 The high-tech for an ideal sleeping climate
When travelling, whether indoors or outdoors, in the cold or in the heat, temperatures and humidity can be exceptional. In addition, we tend to sweat more at the head and neck. The perfect travel pillow therefore not only takes the tension out of the neck and throat muscles, but also ensures a pleasant sleeping climate. To prevent the heat build-up typical of plain memory foam, we have incorporated ventilation channels into the foam with a punctuated pattern for optimal ventilation. In this way, air is pressed out of the pillow through your natural movement. The passive air circulation of the breathable memory foam ensures ideal temperature and moisture management.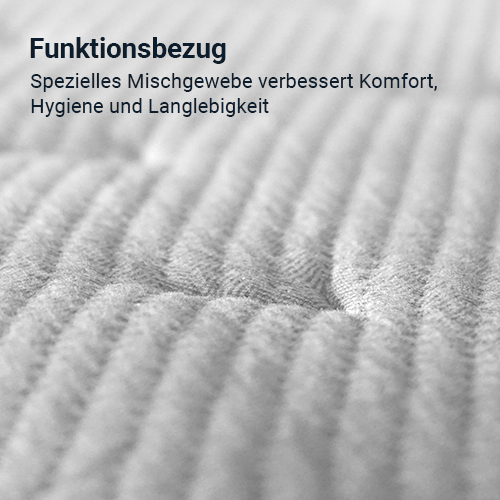 Hand-sewn breathable functional pillowcase
Not too cold, not too warm, not too damp – for optimal heat and moisture regulation, a quality pillow requires not only a functional interior but also a functional cover. Our velvety-soft pillowcase fabric is made of a particularly breathable blended fabric that combines the advantages of cotton, polyester and elastane and noticeably improves the sleeping climate. Therefore, you can recuperate more comfortably while you sleep. The pillowcase is hand-sewn and has the perfect fit. Even with half the pillow filling, it has an excellent fit. And because hygiene is very important to us, our cover is washable at 60° and dryable.
Buy your new travel pillow here
The next trip is sure to come soon. And this time, you'll be perfectly prepared, with your orthopaedic travel pillow from SEVEN SUNDAYS. It's also ideal for a nap on the sofa. Secure the current special offer price in our pillow shop now.
Order now
Use sleep to recharge your batteries for the day
The mattress revolution
All details
Best quality: certified & award-winning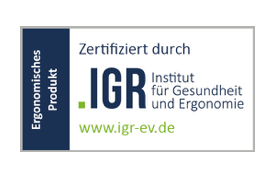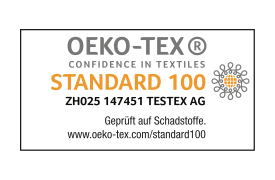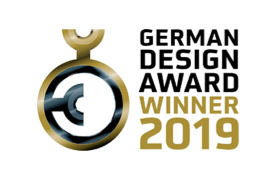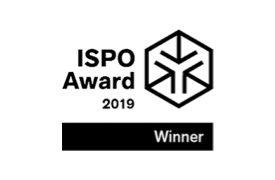 Genuine craftsmanship from Switzerland
The Swiss sleep manufacturer SEVEN SUNDAYS specializes in premium products for better sleep, which help you to recuperate optimally while you sleep and thus wake up feeling more energetic. With our modular mattresses, we have reinvented the mattress. Our pillows offer the best support for your head and neck. And we continue to research and broaden our range of high-quality and valuable sleep products for you. You, too, can benefit from innovative sleep technology.