With SEVEN SUNDAYS products
every day is a Sunday.
Sunday morning is the epitome of a relaxed, refreshed awakening after a deep and peaceful night's sleep: you are carefree and stress-free, and you're starting the new day full of energy.
This is the feeling our three founders, Reinhard Maier and his sons Florian and Benjamin, wanted to convey to their customers every single day when they started developing smart sleep innovations. The SEVEN SUNDAYS sleep system was created with meticulous craftsmanship and the highest quality foams. With it, you can wake up as rested and relaxed as if every day were a Sunday.
The history of SEVEN SUNDAYS
SEVEN SUNDAYS is a young company with a rich tradition: the sleep factory grew out of our Swiss foam family factory, which has been handcrafting ergonomic seat cushions for Vitra, Walter Knoll, Rolf Benz, DeSede and many other leading designer brands for over 40 years.
In 2010, we received a production order for 5,000 premium mattresses from a retail group. The deeper we immersed ourselves in the mattress market, the more we lost sleep over two questions: Do one-size-fits-all mattresses make sense when every person is unique? And does a mattress always have to be thrown away and a new one bought? Because we answered no to both questions, we set up SEVEN SUNDAYS as a spin-off in 2014 to reinvent the mattress and make it better for every single person and for the planet. We are a true family business with two generations of expertise. And we love high-quality and functional products.
Reinhard Maier
Co-founder
Father Reinhard Maier's passionate work began over 40 years ago when he took over the company Müller Foam Ltd. His high quality standards for materials and craftsmanship and his inventive spirit quickly made him a valued development partner and supplier to the European upholstered furniture and chair industry. The most important furniture manufacturers in Europe rely on Müller Foam. He is the inventor of our patented mattress layer system.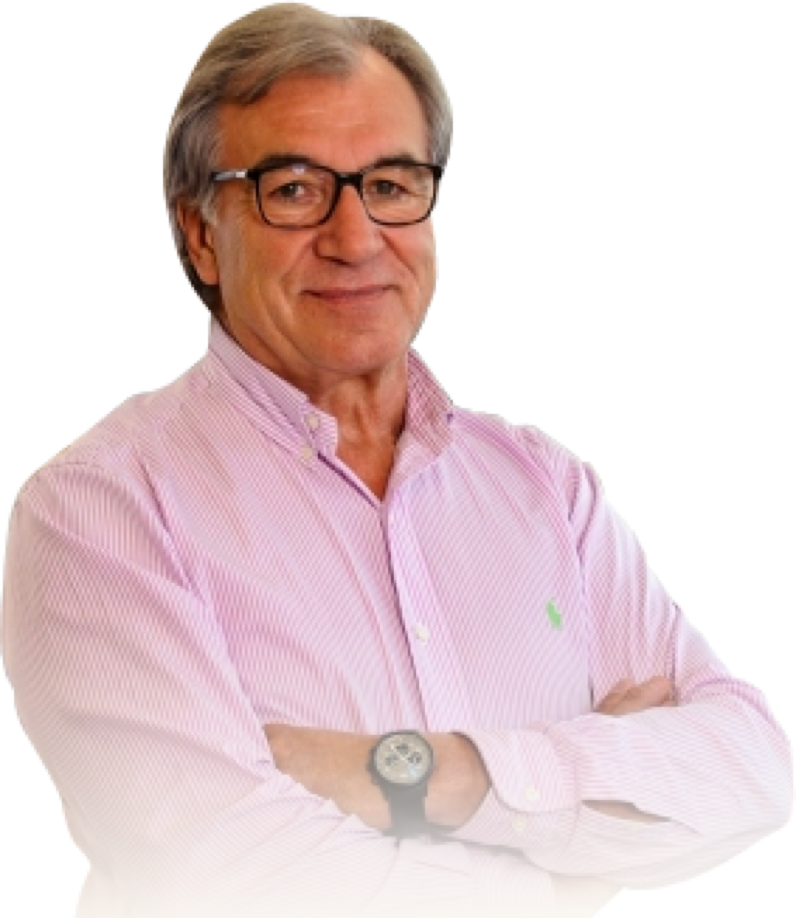 Florian Maier
Co-founder & CEO
As a former management consultant, Florian Maier is the business brain of the family. He is the one who has always been annoyed by the fact that countless design products bore the Maier family know-how, without this ever being outwardly recognized. Florian is also the one who clearly saw the potential of the mattress with a layer system from the very beginning. He quit his job, returned to the family business, and founded SEVEN SUNDAYS.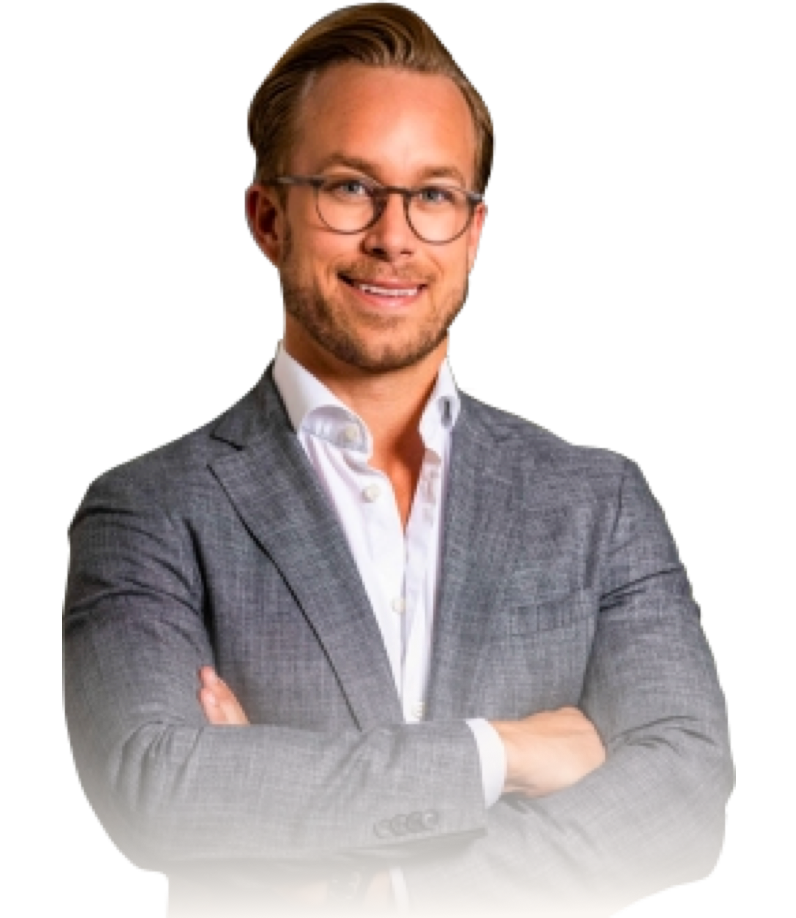 Benjamin Maier
Co-founder
Benjamin Maier is the forward-thinking, creative brain of the family. Benjamin has been questioning things from a young age and has always slept exclusively on pillows that he made himself. He was also the one who started to question whether mattresses had to be a consumer product or whether they couldn't be made differently and better. Benjamin is the idea factory for new products, can be found at every material trade fair and is still happy to personally deliver mattresses today.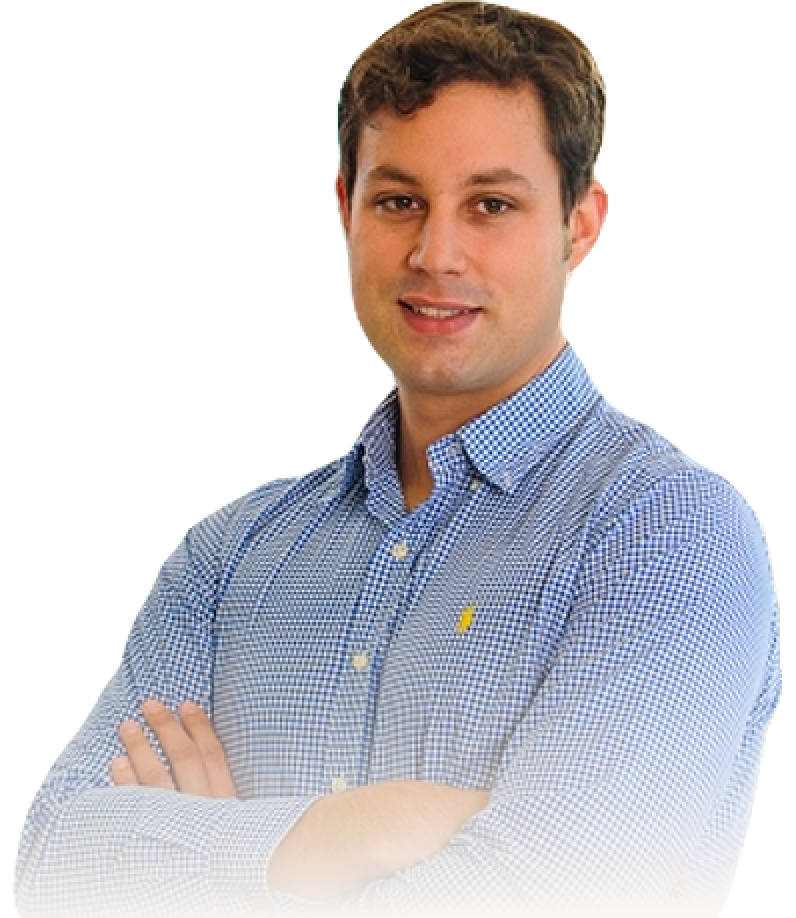 The SEVEN SUNDAYS DNA:
Your friend for good sleep
The SEVEN SUNDAYS family considers itself your good, trustworthy friend.
We don't want you to be satisfied with our products, we want you to be enthusiastic about them, just because you sleep so well with them. That's why we have firmly anchored the following values into our company DNA:

• We specifically develop products that help you sleep better.
• We only use high-quality materials.
• We focus on meticulous craftsmanship with attention to detail.
• We do our best to fulfill our customers' wishes.
• We never stop researching and getting better and better.
Quality has a name: Swiss Made
The Swiss Made designation of origin stands for quality, innovation, reliability and precision, the very attributes that we confer with our work and our products. We manufacture all SEVEN SUNDAYS products with passionate craftsmanship in our sleep factory near Basel.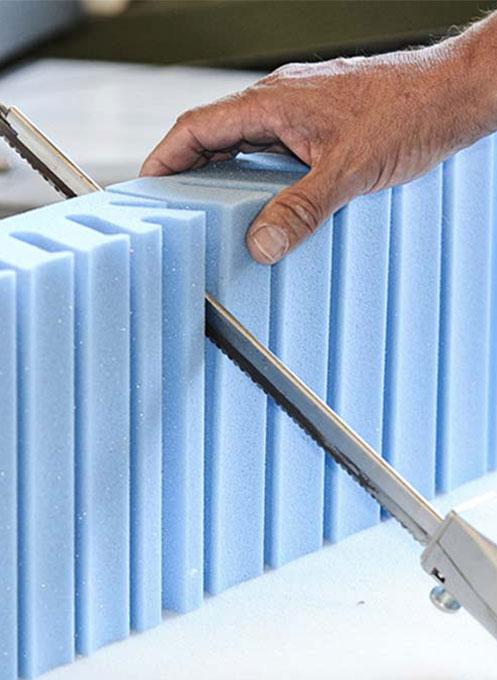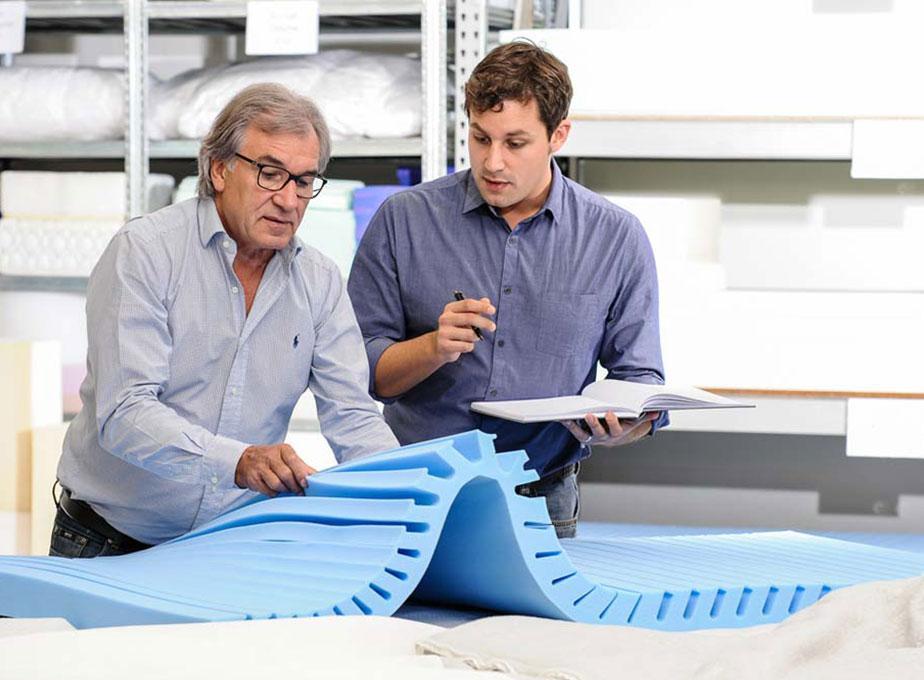 A strong brand with a clear mission
Our mission can be summed up in the following sentence: "We exist so that you can gather more energy every night with a clear conscience."
Because we know that physical and psychological stresses are increasing in the everyday lives of many people. Well over half of the population of Europe regularly suffer from back or neck tension. Mental, stress-related illnesses are on the rise. Sleep duration and quality are decreasing. Yet sleep has an amazing regenerative power, and that is precisely what we want to promote with our products. But not at any price. The important topic of "added value and sustainability" is usually given far too little attention when it comes to mattresses. So that you don't have to have a guilty conscience, we are also committed to our responsibility for the environment and climate. We have set ourselves the following three goals in our work:
Boost the natural recuperation of body and mind during sleep
We help people build their sleep oasis with state-of-the-art sleep technology based on effective, customisable products – to help the body regenerate more effectively at night and start the day with maximum energy every morning.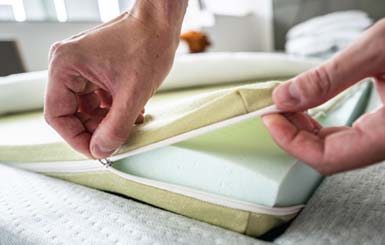 Build the best possible product without compromise
We only use premium materials that are designed to last, and we work with incomparably high manufacturing quality. We develop our products close to the user and together with qualified experts such as the "Back Pope" Prof. Dietrich Grönemeyer.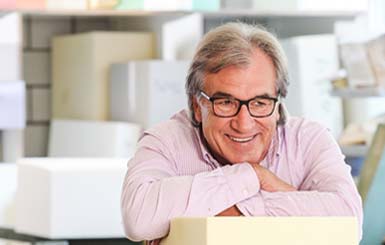 Reduce unnecessary burdens on the environment
We know that artificial foams, hence our activities, are part of the problem. That's why we make sure that the materials last as long and as sensibly as possible, that individual parts can be replaced efficiently and that the materials used can be integrated effectively into the material cycle.
Time for a new mattress:
SEVEN SUNDAYS revolutionises
the mattress market
A real quantum leap: from the standard mattress to the modular mattress
Whereas in the past classic mattresses mainly made of one material such as cold foam or latex were available in different degrees of firmness, nowadays more and more so-called "one-size-fits-all mattresses" are coming onto the market, which usually combine different materials and have a firmness that is supposedly suitable for everyone. Everyone is supposed to sleep well on them. For the mattress industry, they are a licence to print money, but not beneficial for people. With a little common sense, it quickly becomes clear that this cannot work – because every person is different.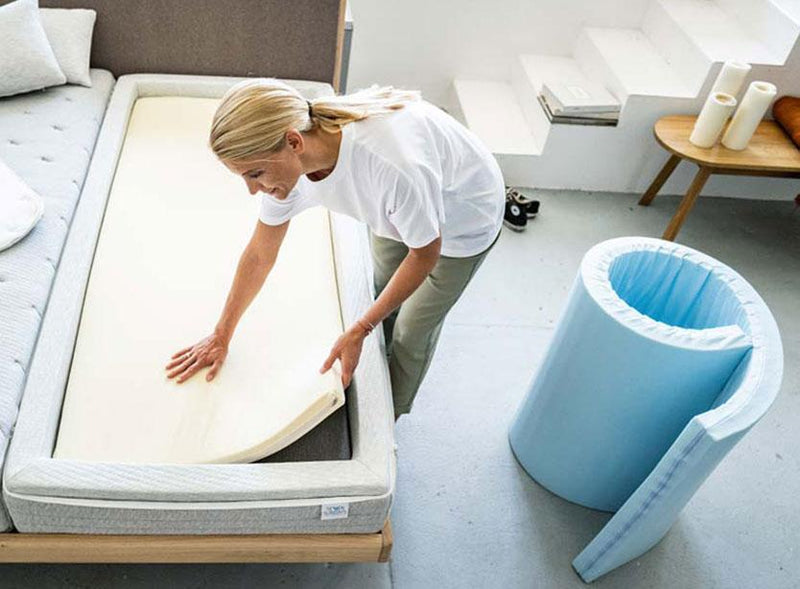 This brought us to the realisation that it's time for a completely new mattress – one that can be individually adapted to the physical needs and comfort requirements of the sleeper.
This resulted in the modular mattress with our revolutionary, highly functional layer system, which is not only beneficial from a health point of view, but at the same time extremely hygienic and resource-saving. Flexibility means that the lying sensation can always be changed, so that the mattress also takes on an experiential character thanks to its extreme flexibility. This makes you want to sleep well.
Discover mattresses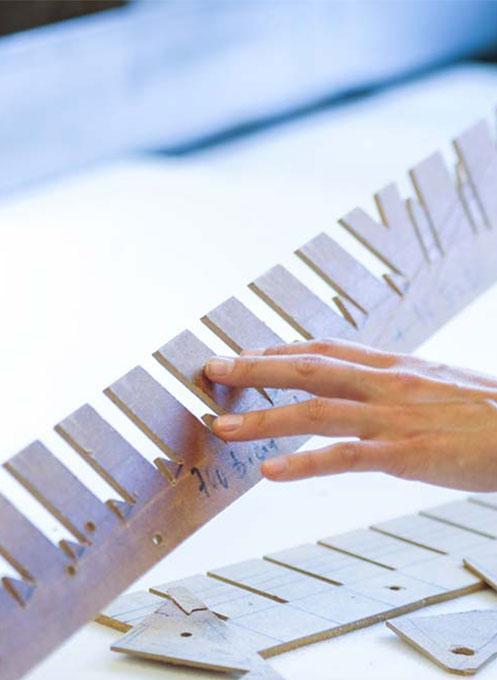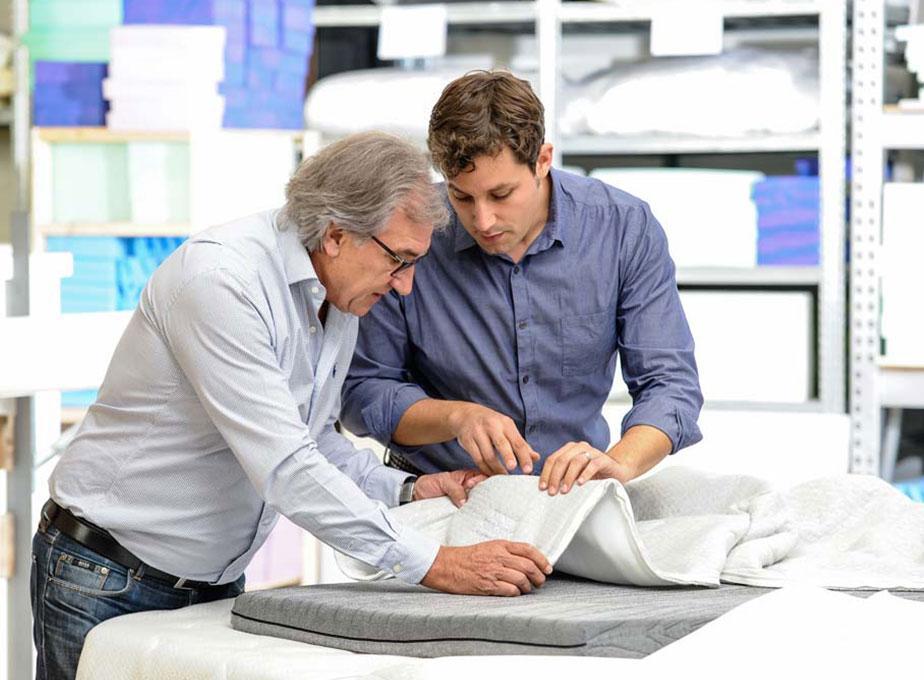 Product research for better sleep
We are constantly on the lookout for new, sensible product ideas, even more ergonomic or environmentally friendly materials and innovations for better sleep.
At heart, we see ourselves as passionate inventors who don't rest until you find them at night and wake up feeling good in the morning. The main driving forces of our Research and Development Department are our customers, experienced experts and meticulous testing: we listen to people to understand their sleep needs. This is how we developed our height-adjustable pillows. We work closely with professionals from different disciplines to perfect our products – for example with Professor Dietrich Grönemeyer. The network of creative experts we have built up over the past 40 years is our strength. All products are meticulously tested before they go into series production and optimised until we are convinced of their best design.
"Sleep makes a decisive contribution to our physical as well as our mental health."
The credibility of the founders and the professionalism of their work convinced me to get involved in the medical advisory board of SEVEN SUNDAYS – because good sleep is so important. SEVEN SUNDAYS has succeeded in developing mattresses that specifically support the ability to regenerate – with orthopaedically functional layers that can be arranged according to individual needs. An effective solution.


Prof. Dietrich Grönemeyer,
Medical Advisory Board SEVEN SUNDAYS
SEVEN SUNDAYS:
For the sake of the environment
Up until now, mattresses have been designed as disposable products. As a result, they have become a consumer product that places an extreme burden on the environment – unnecessarily.
In Europe, 30 million tonnes of old mattresses end up in landfill every year. We want to change this with our sustainable mattresses designed to last a lifetime. In this way, we slow down resource loops and close material cycles: high-quality materials such as high-density foams ensure particularly long durability. And since the layers are not bonded together thanks to our smart layer technology, worn-out parts can be replaced individually without always having to throw away the entire mattress.
A product that fits into today's world like no other.
With SEVEN SUNDAYS, we are proud to have created a unique foundation on which to optimally occupy the increasingly relevant and fast-growing global market for healthy and regenerative sleep solutions with functional products that offer real added value for every user.

Reto von der Becke
Co-owner & Chairman of the Board SEVEN SUNDAYS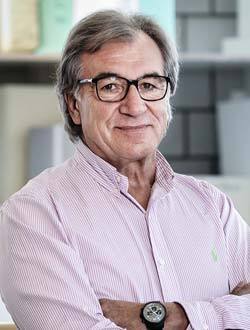 Reinhard Maier
Co-founder
Our world needs a new value creation. A world in which sustainability is not simply modelled retroactively as an afterthought in the value creation process, but is the foundation of it from the start. With SEVEN SUNDAYS, we are proving that this idea need not remain a dream.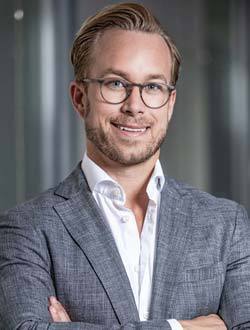 Florian Maier
Co-founder & CEO
Instead of unnecessarily fuelling a continuous demand for products that people often neither want nor need, we rely on the "less-is-more principle". A SEVEN SUNDAYS mattress should not be "consumed" again and again. It should be used for a lifetime! And it should give pleasure all the time.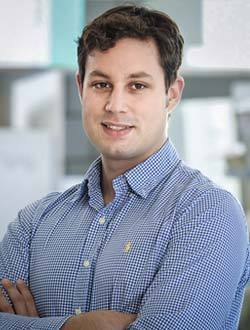 Benjamin Maier
Co-founder
We firmly believe that the best thing a company can do for sustainability is to design its products so that they last a long time and can be repaired or renewed again and again so that less has to be bought. That's why we focus on durable materials and meticulous workmanship.