HIGH-TECH MATTRESS TOPPERS
Functional toppers that will make you and your body happy
Your perfect introduction to the world of our functional sleep products: With our mattress toppers, you can benefit from SEVEN SUNDAYS E3 sleep technology without immediately having to buy a new mattress.
Innovative functional toppers:
Perfect for your sleeping needs
SEVEN SUNDAYS have taken mattress toppers a step further – from the standard topper to the functional topper.
Mattress toppers are very much in vogue as a practical and cost-effective solution for upgrading mattresses to enable you to sleep more comfortably and restfully. However, many products on the market consist of either a simple cold foam core or memory foam, often of inferior quality. As a result, toppers do not provide the desired added value for a better sleep. On the contrary, in our view, a good mattress topper should do more than simply allow you to lie a little softer – it should improve the way you lie. And it should do so according to your sleeping habits.
A good topper should both provide a comfortable lying sensation and support your body in regenerating in the best possible way while you are asleep.
As a premium sleep manufacturer, we at SEVEN SUNDAYS know that everyone has individual sleeping needs and how important it is that mattresses meet these personal requirements. That is why we also offer a selection of the high-quality functional layers of our modular mattresses as toppers. Our high-quality functional toppers are not only designed to enhance your sleeping experience; they combine sleeping comfort with functionality based on the latest findings from sleep research. The most important thing is that they guarantee an ergonomic lying position with optimal pressure relief.
Mattress toppers for healthy sleep
At SEVEN SUNDAYS you will find the topper that is just right for you because it suits your sleeping habits.
Our mattress topper range consists of three different functional toppers with very specific product features. Depending on whether you move a lot or just a little during sleep, you can choose either a topper made of viscoelastic foam or one made of natural latex. If, on the other hand, you are looking for a mattress topper that makes you feel as if you are sleeping on clouds, choose a topper with heavenly soft down. All SEVEN SUNDAYS mattress toppers have an ideal height of 5 cm to bring out the best of their respective comfort and ergonomic properties.
When buying a topper, make sure you choose a material whose properties are specifically beneficial to your body and your sleep.
The so-called memory foam or Visco topper is widely used. Memory foam toppers are characterised by the fact that the viscose becomes softer due to your body temperature, which causes the body to sink in according to the contours. The memory effect ensures that the topper only slowly returns to its original shape and thus stabilises your body. Latex toppers behave in exactly the opposite way. Latex also adapts precisely to the contours of the body, but is very elastic and dimensionally stable, so that the topper immediately returns to its original shape when you move on it.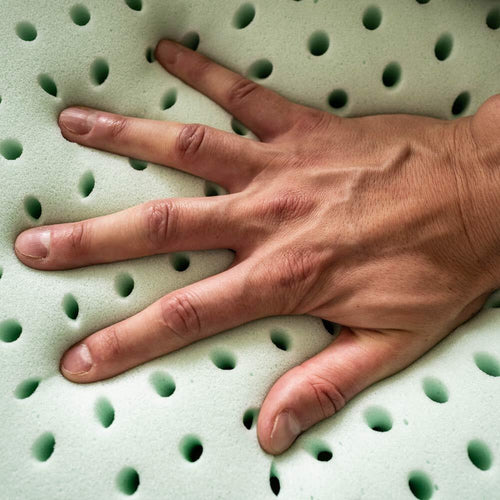 Memory Topper
The SEVEN SUNDAYS Memory Topper is a high-quality Visco topper made of memory foam with thermodynamic properties for ideal body adaptation. Body heat creates an exact imprint of your body in the viscoelastic foam, even with a low weight load. This results in precise pressure relief and thus ergonomically healthy sleep. The memory topper is our bestseller because it is perfect for all those who are looking for the typical topper comfort feeling of weightlessness. We recommend the Memory Foam Topper if you move a lot during the night, because the slow reaction behaviour of the Visco foam helps you to sleep more restfully. A Visco topper is also generally considered to be particularly beneficial as a topper for back pain, tension, spinal problems, joint problems or circulatory disorders.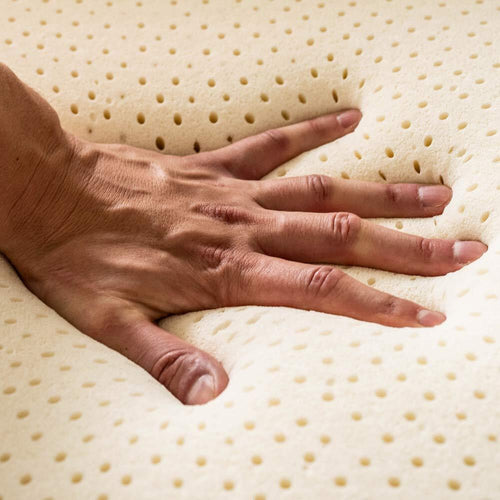 Latex Topper
The SEVEN SUNDAYS Latex Topper is a high-quality natural rubber topper made of Talalay latex. The Latex Topper is the mattress topper of choice if you expect first-class sleeping comfort and are very demanding regarding materials. Latex is often considered the best material for mattresses and toppers. However, because it is comparatively heavy and, above all, expensive, this exclusive natural product is less common than foam. Our extremely pressure-relieving Latex Topper adapts perfectly to the contours of the body and is characterised by particularly high point elasticity. Its high resilience is characterised by a slightly springy property and naturally provides a revitalising effect that can improve your sleep quality if you don't move much in your sleep and therefore feel rusty when you wake up. The Latex Topper is our top model that precisely relieves the spine during sleep.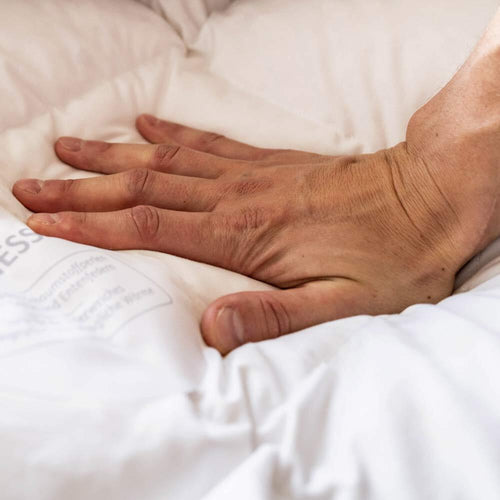 Softness Topper
The SEVEN SUNDAYS Softness Topper is a comfort topper developed by our Research Department with a unique mixture of down and special shredded latex made of natural rubber. The topper guarantees an extremely soft lying sensation. It makes you feel as if you are in the luxury bed at a spa hotel. Unlike a conventional down topper, however, the Softness Topper not only has a cosy feel-good property. With its innovative material mix, it also offers you an ergonomic benefit, as the shredded latex it contains increases support and at the same time prevents flattening, which is often typical of down mattress toppers. In addition, this fluffy topper keeps the body temperature pleasantly constant and is therefore a cosy and functional additional feature for your bed in every season – in summer as well as in winter.